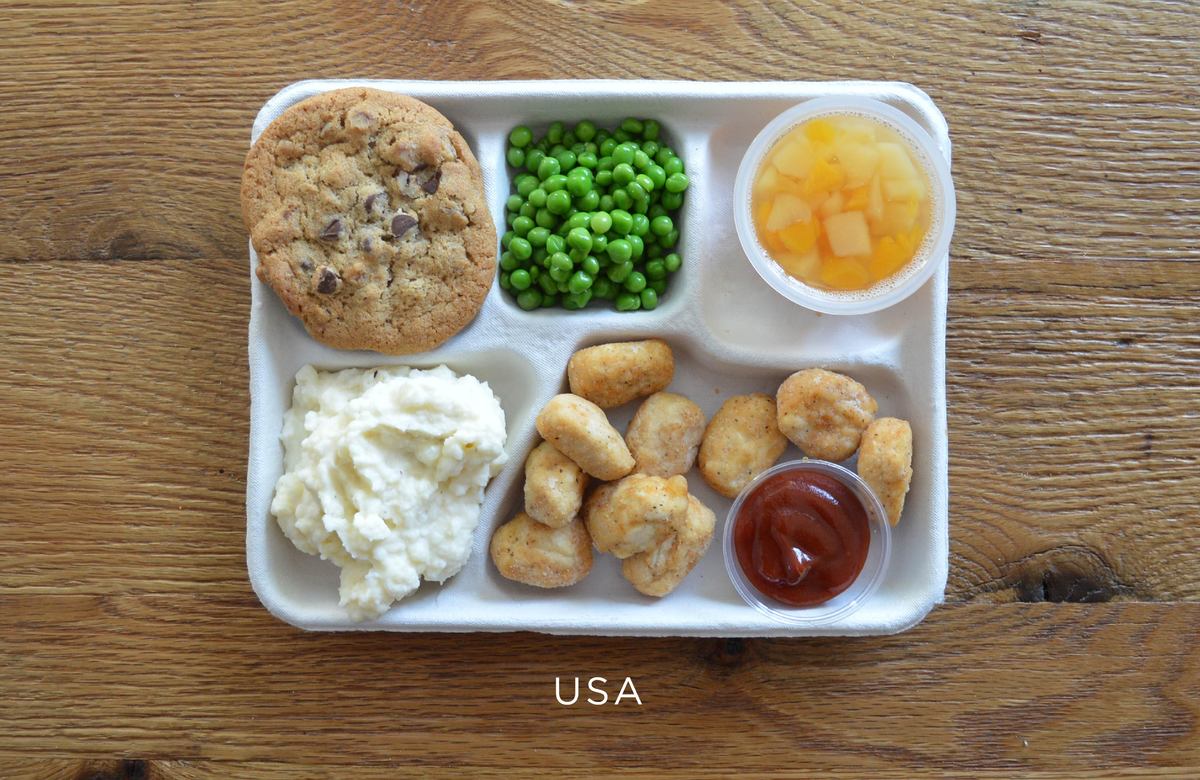 Where did it all start?
How far have programs come?
How did we get to where we are now?
Before School Lunch:
In pre-industrial America, lunch was seen in a fundamentally different way. The midday meal was valued both as the main meal of the day and as a block of time to be spent with family. In fact, lunch was more often called "dinner" before the industrial revolution, indicating the nutritional and social emphasis put on the meal.
During this time, students were usually either homeschooled or attended boarding schools, urban schools, or the quintessential rural one room schoolhouse. Homeschooled children ate lunch at home with their families. Boarding schools would serve communal, formal hot lunches in a dining area. Urban schools would usually send children home to eat lunch with their families, and rural schools often gave children the choice to travel home to share a family meal or to stay at school and eat a lunch packed from home if the distance was too far.
This emphasis on the midday meal is unique in American history to the pre-industrial era – the devaluation of lunch as a social and nutritional experience can be linked to many of the problems US school lunch programs has faced.
 Early School Lunch Programs:
The United States was actually very slow to begin school lunch programs. Some regions in Europe had established school lunch programs by the end of the 18th century, while it took until 1853 before the first program appeared in the US. Interestingly, the early school lunch programs of Europe and the US began in similar ways, with an emphasis on lunch as welfare and nutrition education for young disadvantaged children. In other words, early school food programs focused on feeding culturally accepted dishes to poorer students, and indoctrinating them to the current American nutritional ideals.
The first school lunch program in the United States was launched in vocational schools in 1853 by The Children's Aid Society of New York. This program ran off the labor and dedication of mothers who volunteered to plan, create, and serve meals to children in need. The program did not generally succeed, and other fledgling attempts to provide school lunches also struggled to get off the ground.
In 1905, Robert Hunter published Poverty, which is now often considered the first general statistical survey of America's poor. The book emphasizes hunger as a detriment to society and says this about childhood hunger:
nurture is insufficient because there are too many hungry mouths to feed; learning is difficult because hungry stomachs and languid bodies and thin blood are not able to feed the brain. The lack of learning among so many poor children is certainly due, to an important extent, to this cause.    Hunter, Poverty
After this book was published, school lunch programs
began to pop up all over the country. The same year Poverty was published, the Women's School Alliance of Wisconsin began working to serve lunch to local school children. In 1908, the Women's Educational and Industrial Union of Boston began serving hot lunches to public school children in Boston. In 1912, a Philadelphia school board created a "Department of High School Lunches." More 'muckraking' works were published highlighting the need to feed America's school children, most notably The Bitter Cry of the Children by John Spargo. This lead to even more programs in cities such as Milwaukee, New York, Cleveland, Cincinnati, St. Louis, Chicago, and Los Angeles, and even expanding programs in rural school systems.
These programs did feed many school children, and could be considered a success. Local and state governments in 15 states began to approve of and authorize school lunch systems. However, the Great Depression made volunteer-run, donation-centered, locally-funded programs not only unsustainable, but infeasible.
Federal Involvement: 1930's
The Great Depression revealed that school lunch
 programs could not survive with just the support of local volunteers and governments – something more was needed. The Federal Government stepped in to fill the funding gaps with the New Deal. The Reconstruction Finance Committee gave loans to school systems to pay for employees to prepare and serve school lunches. The Works Progress Administration allocated similar funding, but with an emphasis on creating jobs for those who needed employment. The Federal Emergency Relief Administration and the Civil Works Committee soon also became involved. In total, these New Deal programs reached school systems in 39 states and employed 7,422 women in the lunch system.
Another facet of federal involvement following the
Great Depression was the initiative to combat farmer surplus due to the unstable economy. In 1936, Congress approved a law to allocate 30% of duties from customs laws each year to the Secretary of Agriculture to divert surplus goods to the school food programs instead of the general market. The Federal Surplus Commodities Corporation and Federal Surplus Relief Corporation worked to distribute surpluses of many products and formed partnerships with local and state governments, Parent-Teacher Associations, and mothers clubs to involve 78,841 schools in the initiative by 1942.
In 1943, Congress set aside $60 million dollars to fund, expand, and sustain school lunch programs that year. By 1944, Congress allocated another $50 million for the same purpose. It was obvious, however, that annual funding allocations were not an efficient way to create a long term lunch program.
National School Lunch Act of 1946:
In 1946, the House Committee on Agriculture stated:
The need for a permanent legislative basis for a school lunch program, rather than operating it on a year-to-year basis, or one dependent solely on agricultural surpluses that for a child may be nutritionally unbalanced or nutritionally unattractive, has now become apparent.
This is the single largest step in the history of school
lunches in the United States. This statement was the mandate for the National School Lunch Act, which fundamentally changed school lunch by framing it at as a single program at a national scale.
One of the main impacts of the NSLA was the ability to now have funding for aspects of the school lunch program that were not direct labor and food costs, such as creating spaces for communal lunch dining in schools, renovating and furnishing school kitchens, and equipment maintenance. Funding was sorted into categories, giving each school a certain amount to spend on equipment, food, labor, administration, etc. The amount of funding given to each state was dependent on both population and income per capita; poorer states got more assistance.
In order to participate in the program, each school had to follow 5 major guidelines:
Serve lunches meeting the minimum nutritional requirements prescribed by the Secretary
Serve free or at reduced cost lunch to children who were determined by local school authorities to be unable to pay the full cost of the lunch, and not to segregate or discriminate against such children in any way
Operate the program on a non-profit basis
Utilize as far as practicable the commodities declared by the Secretary to be in abundance and to utilize commodities donated by the Secretary
Maintain proper records of all receipts and expenditures and submit reports to the State agency as required
Another interesting component of the NSLA was to prescribe guidelines for three different classes of school lunch: Type A, Type B, and Type C. This is controversial; Type A was the ideal lunch, or the 'premium', and Types B and C were imitations of Type A with tips for watering down foods and other methods for reducing costs, such as lighter milks. This method did provide lower-income schools with strategies and frameworks to help serve fairly healthy and balanced meals though (Types A, B, and C lunches were eliminated in 1980). "Especially Needy Schools" could also be given additional funding under a section of the NSLA.
Since 1946, the NSLA has been updated and amended on a 5 year cycle in conjunction with WIC.
This video was created to advertise or 'educate about' the NSLA by the Department of Agriculture in 1966. It offers a good overview of the divers applications of the act and also provides interesting cultural context for the program.
Child Nutrition Act of 1966:
In 1966, the Child Nutrition Act was passed by Congress,
It is hereby declared to be the policy of Congress that these efforts shall be extended, expanded, and strengthened … to safeguard the health and wellbeing of the Nation's children, and to … meet more effectively the nutritional needs of our children.
Important steps forward with this act were the finalization
of the Special Milk Program, launching of the Pilot Breakfast Program, further nonfood assistance funds, additional funding to hire administrators for school lunch programs, and the authorization of centralized school food programs. The Special Milk Program allocated funding and access to cheaper milk to public schools and institutions dedicated to childcare or education. The Pilot Breakfast Program was also a huge breakthrough, acknowledging the importance of breakfast on student's nutrition and learning. The Pilot lasted 2 years, and was subsequently extended until Congress finalized it in a 1975 amendment. Possibly the most effective part of the 1966 Child Nutrition Act was the authorization of centralized school food programs – funding and requirements for the existing school food programs spanned many departments including Health, Education and Welfare, the Office of Economic Opportunity, and the Bureau of Indian Affairs. The 1966 Child Nutrition Act centralized all programs having to do with school lunches to be under the Department of Agriculture. This helped unify standards, practices, supervision, and communication.
Ketchup is a Vegetable? The 1980's-2000's
In the 1980's, school lunch programs were famously scrambling to make ends meet after the school lunch budget was cut from $4.5 billion to $3 billion. A famous attempt to cut costs by the Food Research and Action Center and the Department of Agriculture lead to adjustments in nutritional standards for food. Journalists quickly publicized the ridiculous new standards to the public, and people were both shocked and outraged to find out that:
Ketchup, French Fries, Pickle Relish, and Pizza Sauce were classified as vegetables
Meats could be replaced with: tofu, yogurt, peanuts/peanut butter, cottage cheese
Other famous oddities popped up in this cost-cutting attempt, and it ended up being such a public issue that it was retracted by President Reagan in just 15 days. Yet, the concept of ketchup as a vegetable is still talked about today.
In 1995, the Contract with America famously cut funding for welfare programs. School lunches were heavily hit by this legislation, and many programs suffered. Most notably, the responsibility of actually providing lunches for children was shifted from the federal to state level – funding was given to states in the form of block grants rather than traditional fund allocation. This made it possible for states to use in some cases up to 20% of the money previously dedicated to school lunches for other purposes.
Works Cited:
Images:
https://epfe201rachelnoteboom.files.wordpress.com/2012/04/1628.jpg
http://www.lornebair.com/pictures/15675.jpg
http://www.childrensaidsociety.org/files/images/inset/blog/OSTProtestTeaser.jpg
https://upload.wikimedia.org/wikipedia/commons/4/42/Photograph,_School_Lunch_Project-_John_Burroughs_School,_Fresno_City._-_NARA_-_296099.jpg
http://3.bp.blogspot.com/-NIOWJ2wsVdY/UtKLvCj85CI/AAAAAAAACOs/g-ZdN8n-8s0/s1600/women+school+lunch.gif
https://upload.wikimedia.org/wikipedia/commons/8/87/Administrative_Act_1946.jpg
http://www.straightdope.com/images/art/2004/040716.gif
https://www.govtrack.us/congress/bills/108/s2507/_text_image
Information:
http://www.foodtimeline.org/foodschools.html
http://www.fns.usda.gov/sites/default/files/NSLP-Program%20History.pdfhttp://www.fns.usda.gov/nslp/history_5#APPROVED
http://articles.latimes.com/1995-03-01/news/mn-37389_1_school-lunch
https://www.washingtonpost.com/archive/politics/1981/09/09/q-when-is-ketchup-a-vegetable-a-when-tofu-is-meat/7d305f0c-3cc9-480a-a119-e9307dd5ff91/